Product advantages:
The components are clear: The 8 inhibitors are divided into two independent packages according to the certain concentration ratio, and the components will not affect each other.
Stable and efficient: Prevent the loss of phosphorylation of proteins and lipids and supplied as a ready-to-use solution.
Good quality and low price: Good quality and low price: quality assurance and reasonable price can save research expenses for you.
Experimental data: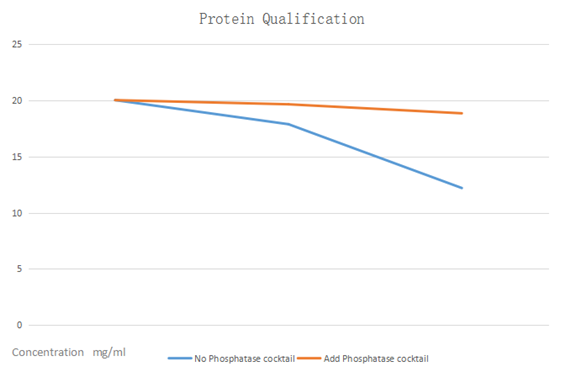 Product Description:
This product is a mixture of phosphatase inhibitors prepared by 8 independent phosphatase inhibitors (no EDTA) according to the optimized ratio. It is divided into A and B two tubes: A tube is a phosphate - root analogue to prevent the loss of phosphorylation of proteins and lipids , and B tube is a new natural product to provide more comprehensive protection for phosphorylation.
Method:
1. This product is used for protecting the stability of phosphorylation in mammalian cells and tissues. It can be used for Western Blot analysis, immunoprecipitation (Co-IP), immunofluorescence (IF), immunohistochemistry (IHC), kinase assay (kinase assay) and antibody, enzyme diagnostic kit (Dignose Kit) and other experiments.
2. Phosphatase Cocktail is added to the prepared experimental system in advance and blended evenly with the volume ratio of 1:100 during experiments. Add A tube first, then B tube.
Storage:
Phosphatase Cocktail should be sealed at -20 ℃ and will be valid for 1 years. When used, it can be placed in room temperature or at 4 ℃ for a short time, after that it should be stored in -20 ℃ immediately.
Attention:
1. This product does not contain EDTA, and is 100 × H2O and 100 ×DMSO storage solution. When used, the concentration should be adjusted to 1×.
2. When the product is stored at -20℃, DMSO appears ice crystal . This is a normal phenomenon, not a product quality problem. If the B tube melts for a long time, it can be melted in 25 ℃ water .
3. A.B two tubes can not be added at the same time to prevent precipitation. The A tube must be added first, and then the B tube is added.
4. If you want to get more complete proteins, it is recommended to use Abmole Protease Inhibotor Cocktail.
5. This product is only for scientific research.
Answers to common questions:
1. Why does B tube melt slowly?
Answer: B tube is dissolved in DMSO, and it is stored at -20℃ as ice crystal, During the experiment, it is necessary to melt in the water at 25℃.
2. Can A tube and B tube be used together?
Answer: No. Two mixed together will form a green precipitate. When it is used, it needs to be separately added. First add A tube, then add B tube.
3. Why do the phosphorylation and non phosphorylation bands of Western Blot become very weak?
Answer: Phosphatase Cocktail can only ensure that phosphorylated protein is not decomposed, but if you want to ensure the output of all protein, Abmole Protease Inhibitor Cocktail is recommended.
Formation:

Customer Product Validations & Biological Datas
Source
Drug Deliv Transl Res (2018). Figure 2. Phosphatase inhibitor cocktail
Method
Tissue collection
Cell Lines
rats
Concentrations
50 mM
Incubation Time
20 min
Results
In contrast to the changes in plasma BDNF concentrations, the route of administration did not result in any significant differences in BDNF concentrations in any brain regions
Rating
Product Citations