Custom Synthesis
---
We have an experienced team of chemists on staff with a depth of knowledge and experience in complex organic synthesis that can synthesize a diverse range of high purity pharmaceutical and fine organic chemicals in the mg to Kg scale.
Exclusive product we can provide in the Kg to Tonne scale:
Etoricoxib Intermediates
2-Chloromalonaldehyde (36437-19-1)
3-Amino-2-chloroacrolein (221615-73-2)
Ibrutinib Intermediates
3-(4-phenoxyphenyl)-1H-pyrazolo[3,4-d]pyriMidin-4-aMine (330786-24-8)
(R)-3-(4-Phenoxyphenyl)-1-(piperidin-3-yl)-1H-pyrazolo[3,4-d]pyrimidin-4-amine (1022150-12-4)
1-(4-(4-amino-3-(4-phenoxyphenyl)-1H-pyrazolo[3,4-d]pyrimidin-1-yl)piperidin-1-yl)prop-2-en-1-one (996563-96-1)
Our Advantages
Competitive pricing
Comprehensive characterization (HPLC, MS, NMR)
On-time delivery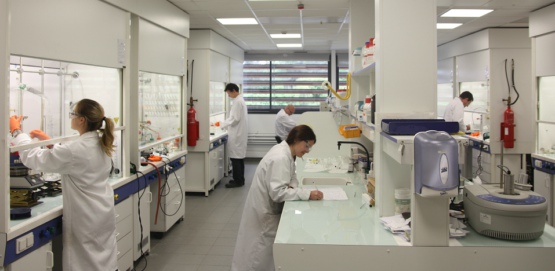 Please contact us at [email protected] with your custom synthesis requirements and we will get a quote back to you as soon as possible (usually within the 24 - 48 hours). As well as the price, the quote will include our estimated time of synthesis. All inquiries and subsequent projects are of course undertaken in the strictest confidence and will be backed up by secrecy agreements if required.