Intended Use
Cell Counting Kit-8 (CCK-8) allows sensitive colorimetric assays for the determination of cell viability in cell proliferation and cytotoxicity assays.
General Description
CCK solution is a one-bottle solution; no pre-mixing of components is required. CCK, being nonradioactive, allows sensitive colorimetric assays for the determination of the number of viable cells in cell proliferation and cytotoxicity assays. WSTS* is reduced by dehydrogenases in cells to give an orange colored product (formazan), which is soluble in tissue culture medium. The amount of formazan dye generated by dehydrogenases in cells is directly proportional to the number of living cells.
Comparison between CCK method and MTT method: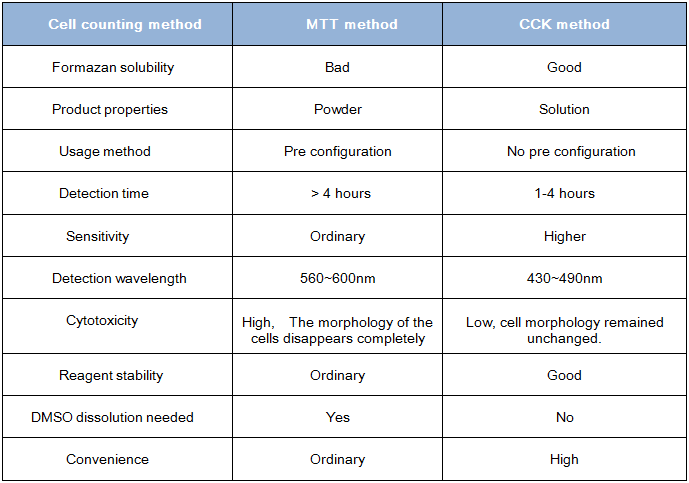 Protocol:
1. Usually in the 96 hole plate, cell proliferation and cytotoxicity test are inoculated with cell suspension (5000cells and 2000 cells /100 uL/ hole, the specific number of the cells per hole should be decided according to the size and speed of the cell proliferation speed and other factors). The system is filled with a corresponding amount of cell culture medium, drug and CCK-8 solution, and the holes without cells are regarded as a blank control.
2. The cells adhered to the wall for 24 hours and are given a specific dose of 0-10 mg of stimulation in accordance with the experimental requirements.
3. The drugs are treated for 2~4 days and then add 10 uL of CCK solution at each hole (be careful not to generate bubbles in the pores, which will affect OD value)
4. Incubate the incubator for 1~4 hours, then use the microplate reader to determine the absorbance at 450nm.
5. If you do not detect OD value temporarily, you may add 10 μL 0.1M HCL solution or 1% w/v SDS
solution, cover it with culture plate and keep it from light at room temperature. Absorbance does not change in 24 hours.
6. The absorbance of phenol red can be eliminated by blank hole so that the result will not be affected.
Announcements:
1. When using 96 hole plate to detect , if the cell culture time is longer,we must pay attention to evaporation problems. On the one hand, a circle surrounding 96 hole plate is more likely to evaporate, you can take it out, adding the same amount of PBS, water or liquid culture instead; On the other hand, the 96 hole plate can be placed near the incubator water to reduce evaporation.
2. The detection of this kit depends on the reaction catalyzed by dehydrogenase, so reducing agents (such as some antioxidants) will interfere with the detection.
3. If there are many reducing agents in the detection system, we should try to remove them.
4. Before using Microplate Reader, you should make sure there is no bubble in each hole, otherwise it will interfere with the determination.
5. This product is limited to scientific research of professionals and should not be used for clinical diagnosis and treatment or used as food and medicine, it should not be deposited in ordinary houses.
6. For your safety and health, please wear lab-gown and disposable gloves.
Vitality calculation:
Cell viability * (%) =[A (dosing) -A (blank)]/[A (0 dosing) -A (blank) * 100%
A (dosing): Absorbance of cells, CCK solutions, and drug solutions
A (blank): Absorbance of the culture medium and CCK solution without cells
A (0 dosing): Absorbance of cells, CCK solutions without drug solutions
* Cell viability: Cell proliferation activity or cytotoxicity activity
Storage conditions:
4 degrees centigrades for one year; -20 degrees centigrades, protected from light for two years.
Documentation Download

Cell Counting Kit-8 Manual
Customer Product Validations & Biological Datas
Source
J Hazard Mater (2020 Apr). Figure 6. Cell Counting Kit-8 (AbMole BioScience, Houston, TX, USA)
Method
Cell viability assay
Cell Lines
LO2 and HEK 293 cells
Concentrations
-
Incubation Time
-
Results
As shown in Fig. 6, PAT-J significantly reduced the viability of the two cells compared with the JUICE group, while the cell viability of the PAT-JP and LS-J2 treated groups did not change significantly.
Rating
Source
Med Sci Monit (2018 Oct). Figure 2. Cell Counting Kit-8 (Abmole Bioscience, USA)
Method
Cell viability assay
Cell Lines
colon cancer cells
Concentrations
10 nmol/L
Incubation Time
1 h
Results
Then, CCK8 assay was performed to measure the effect of MON1B on cell viability of colon cancer cells, which was inhibited time-dependently (12, 24, and 48 h) in the si-MON1B group, with significant differences at 24 and 48 h (P<0.05, Figure 2C).
Rating
Source
Sci Rep (2018;8:3891). Figure 4. CCK-8 (AbMole BioScience)
Method
Cell viability assay
Cell Lines
PLC5 cells
Concentrations
10 nmol/L
Incubation Time
48 h
Results
In accordance with functional analysis, western blot confirmed that CCRK overexpression promoted cell proliferation by activating β-catenin/TCF signaling, which however significantly abrogated by bufalin
Rating
Source
Sci Rep (2018;8:3891). Figure 1. CCK-8 (AbMole BioScience)
Method
Cell viability assay
Cell Lines
PLC5 cells
Concentrations
10 nmol/L
Incubation Time
48 h
Results
After 48 hours incubation, cell viability was measured by CCK-8 assay. In contrast with less influence on the growth of LO2 cells, bufalin exhibited strong ability to suppress the number of PLC5 cells in a dose-dependent manner.
Rating
Source
Cancer Biol Ther (2018 Jun 3;19(6):507-517). Figure 7. CCK-8 (Abmole Bioscience, Shanghai, China)
Method
CCK-8 assay
Cell Lines
C33A, Hcc94, HeLa, and SiHa cell lines
Concentrations
Incubation Time
72 h
Results
As the results of the CCK-8 assay shown, the 72-hour treatment with buformin exhibited significant suppressive effects on cellular growth in C33A, Hcc94, and SiHa cells, but only exerted moderate effects in HeLa cells.
Rating
Source
Future Oncology (2018 Feb;14(3):241-253) . Figure 3. CCK-8 (AbMole BioScience, Shanghai, China)
Method
Cell counting kit-8 assay
Cell Lines
HeLa, SiHa, C33A and CasKi cells
Concentrations
10 μl
Incubation Time
2 h
Results
Compared with its counterparts, knockdown of PXN suppressed cellular proliferation and induced cellular apoptosis
Rating
Source
PLoS One (2013). Figure 3. Cell counting kit-8
Method
Cell proliferation assay
Cell Lines
Human colon cancer cell lines HT-29, LOVO, and Caco-2
Concentrations
10 μL/well
Incubation Time
2 h
Results
The effect of cPA on cell proliferation was determined using a colorimetric assay. We found that cPA inhibited the proliferation of HT-29 and LOVO cells but not of DLD-1 and Caco-2 cells, which have lower endogenous levels of PDE3B than HT-29 and LOVO cells.
Rating
Source
PLoS One (2013). Figure 4. Cell counting kit-8
Method
Cell viability
Cell Lines
Human mesenchymal stem cells
Concentrations
20 µL/well
Incubation Time
3 h
Results
In group A, the cell number remained stable during the first 3 days, followed by a continuous increase till day 14. In group B, the cell number was stable during the first 2 days, then started to increase, and attained a plateau on day 12. In group C (control group), the cell number (Fig. 4A) remained stable during the first 4 days in culture, then started to increase, and plateaued on day 8.
Rating
Product Citations